Sessions@Studio 1a
Our studio band East Bay Drive has committed to putting out a song a week on social media and this website for 2021.  We record live in the studio and our technical director Silvio Ciccone masters, produces, and posts each video.  We experiment with new recording techniques to improve our productions and create demonstrable capabilities for our clients.  
Occasionally we have the pleasure of featuring local professional musicians and vocalists at Sessions @ Studio 1a.  So far, opening up the studio to guests has proven to be rewarding for all involved.  The studio practices safe distancing, mask wearing when not being recorded, and plexiglass panels around musicians that are closer than 8 feet.  Keeping us and our musical guests safe is high priority. Please feel free to share links with your friends and family and spread the word.  All of us are looking forward to times when we can meet in public again and see you.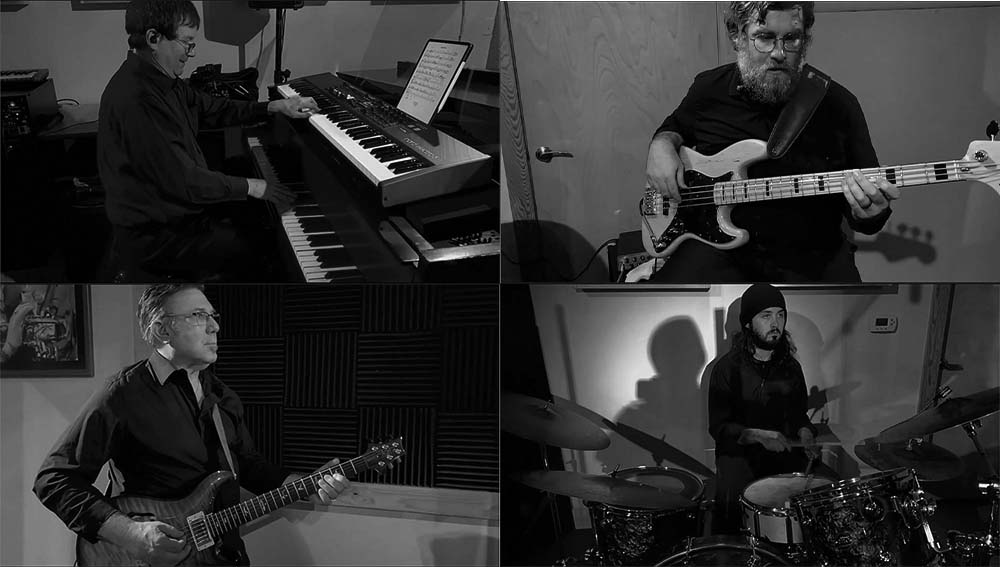 East Bay Drive
David Chown | Piano & Keys | John Paul | Bass
Rick Kiehle | Guitar | Alex Wyant | Drums & Percussion
EAST BAY DRIVE
East Bay Drive is a 4-piece American Jazz-Fusion band from Traverse City, Michigan. The band formed in 2019 from a collection of eclectic musicians who met at MusicHub.Live Studios and who all just couldn't get enough Fourplay, Steely Dan, and Dirty Loops. These individuals had worked with each other individually for years but never together as a group.  Their unique brand of entertainment fuses dynamic grooves with deep feel, and a friendly humble approach to music that will make you want to move with the groove.
The band currently puts out new videos every week and sometimes features local guest artists.  You can see some of the videos below.
"From studio to stage, these guys can do it all" – Kenny Olson
East Bay Drive featuring Rhett & John
How Deep Is Your Love | Bee Gees | Cover
East Bay Drive featuring Elizabeth Sexton Rivers on Vocals
Hey Little Man | Bonnie Raitt | Original
East Bay Drive featuring Laurie Sears on Sax
Never Can Say Goodbye | Clifton Davis | Cover
East Bay Drive featuring Elizabeth Sexton Rivers on Vocals
I Can't Make You Love Me | Bonnie Raitt | Cover
East Bay Drive featuring Laurie Sears on Sax
Maputo | Marcus Miller | David Sanborn | Bob James | Cover
East Bay Drive
Blues Force | FourPlay | Cover